Data Analytics Consulting
Strengthen your GRC with Data Analytics services
Data Analytics Consulting
SRC consulting has the necessary experience in data-related services. Our consultants bring experience in the fields of data management, data science, business intelligence, machine learning, and artificial intelligence helping your company to transform into a data-driven and ultimately insight-driven business.
Specifically, we apply the latest analytics techniques and tools to help you improve your risk management, compliance function, and assurance activities. We are firm believers of data-driven SGRC.
Everything you need to know about

Data Analytics Consulting
Data analytics is the science of analyzing raw data to make conclusions about that information. Many of the techniques and processes of data analytics have been automated into mechanical processes and algorithms that work over raw data for human consumption. Various approaches to data analytics include looking at what happened (descriptive analytics), why something happened (diagnostic analytics), what is going to happen (predictive analytics), or what should be done next (prescriptive analytics). Data analytics relies on a variety of software tools ranging from spreadsheets, data visualization, and reporting tools, data mining programs, or open-source languages for the greatest data manipulation.
What are the steps involved in Data analytics?
The process involved in data analysis involves several different steps:
The first step is to determine the data requirements or how the data is grouped. For instance, data may be separated by age, demographic, income, or gender. Data values may be numerical or be divided by category. Without a proper understanding of the underlying data to be collected, subsequent steps become ineffective.
The second step in data analytics is the process of collecting it. This can be done through a variety of sources such as computers, online sources, cameras, environmental sources, or through personnel.
Once the data is collected, it must be organized so it can be analyzed. This may take place on a spreadsheet or other form of software that can take statistical data.
The data is then cleaned up before analysis. This means it is scrubbed and checked to ensure there is no duplication or error, and that it is not incomplete. This step helps correct any errors before it goes on to a data analyst to be analyzed.
Why is Data Analytics important for businesses?
In a world increasingly becoming reliant on information and gathering statistics, data analytics helps individuals and organizations make use of their data. Using a variety of tools and techniques, a set of raw numbers can be transformed into informative, educational insights that drive decision-making and thoughtful management.
Data analytics is important because it helps businesses optimize their performances. Implementing it into the business model means companies can help reduce costs by identifying more efficient ways of doing business.
Why are companies and organizations in need of SRC Data Analytics (consulting)?
Companies can use data analytics to make better business decisions and help analyze customer trends and satisfaction, which can lead to new—and better—products and services. We show you the opportunities that Data Analytics offers. In doing so, we work with you to transform your processes with a clear focus on your business success. Our experts support you in building your own analytics capabilities and the necessary data structures and analytics platforms. In addition, we help you identify innovative digital and data-driven business models.

What are the different types of Data Analytics we cover?
SRC services in this domain are broken down into the four types of data analytics.
Descriptive analytics:

This describes what has happened over a given period of time. Examples could be: Has the number of views gone up? Are sales stronger this month than last?
Diagnostic analytics:

This focuses more on why something happened. This involves more diverse data inputs and a bit of hypothesizing. Examples could be: Did the weather affect sales? Did that latest marketing campaign impact sales?
Predictive analytics:

This moves to what will likely happen in the near future. Examples could be: What happened to sales the last time we had a hot summer? How many weather models predict a hot summer this year?
Prescriptive analytics:

This suggests a course of action. Examples could be: If the likelihood of a hot summer is measured as an average of these five weather models is above 58%, we should add an evening shift and rent an additional tank to increase output.
How does SRC's Data Analytics Consulting help you?
SRC Consulting understands that data analytics is a window into compliance events and processes. A more automated audit and compliance environment allows you to aggregate the data across systems and use it to refine and adjust practices across the enterprise. Our team transforms traditional processes to help identify, monitor and report on risk, providing insights into both risks and the effectiveness of controls.
Not only can we show you how data analytics can improve the efficiency of compliance and assurance activities, but we can also demonstrate how to establish easy-to-use dashboards, highlighting issues before they escalate into damaging problems. Whether you need us to serve as a full consultant or as an extension to your team, SRC can drive additional efficiencies, offering potential cost savings.
Your guide to a

holistic

approach to safety.
Comprehensive process for achieving information security and regulatory compliance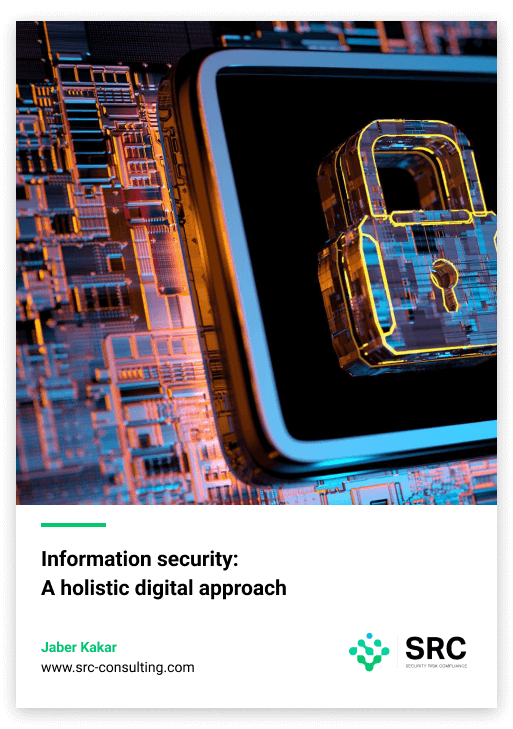 Information security:
A holistic digital approach
Learn more about how they effectively meet compliance and information security requirements
Access our appointment calendar directly to reserve your desired date. Use the meeting link to do so.