Risk Management Consulting
Establish a sustainable risk management process to optimally eliminate your risks.
Risk Management Consulting
Our consultants are companions to companies in all industries in the area of risk management. We provide customized risk management and consulting solutions to help you better understand and quantify the risks your company faces today or in the future. We help you prevent avoidable losses and minimize the consequences of events beyond your control. You achieve these goals by establishing a sustainable risk management process.
Everything you need to know about

Risk Management Consulting
Risk management can be seen as a dynamic and continuous cycle in which knowledge gained through self-reflection is used to eliminate risks in the best possible way.
What is Risk Management Consulting?
Risk Management Consulting, at its core, involves advice that helps organizations and individuals adequately assess their risks and develop a plan to minimize the risk of loss.
What steps does holistic risk management involve?
Although risk management is complex and there is no single process that all consultants use, there are traditional methods that risk management consultants use to protect your business from risk. Important components/steps of risk management consulting are:

1. Discovery
Every company has processes and procedures that are unique to the company. Along with this, every company has a set of risks that no other company, even companies in their own industry, has. These unique risks must be discovered and carefully evaluated. Identifying and listing the various business risks is arguably the most important step in the risk management process. Risks that are not expected often hurt companies much more than the risks you expect.

2. Severity assessment
Once various threats and vulnerabilities have been listed, each risk must be prioritized against other risks based on the potential impact.

3. Planning
Once enterprise risks are known, especially in terms of what impact they could have, a plan can be created to protect the enterprise. The plan that you and your SRC risk management consultant create does not have to be complicated. For example, it may be about mitigating a particular risk or simply taking out insurance to cover the risk.

4. Implementation
After significant risks have been identified, their severity assessed, and an action plan created, the plan is implemented in daily operations. This often requires a change in corporate culture, such as increased safety awareness, following the top-down principle. In principle, the implementation of a risk management plan is time-consuming and resource-intensive. Nevertheless, a plan that is only partially implemented is better than having no plan at all, as even this can mitigate serious risks.

5. Evaluate
The evaluation of implementation measures must be evaluated in terms of their performance over time. It helps to quantify the evaluation.

6. Improve and revise
As with other business activities, risk management must be subject to a continuous improvement process. This is necessary because risks are constantly evolving, and advances in one area can lead to new risks in another. This applies in particular to advances in technology. Risk management is not a static process that you set once and then forget.
Essentials for the identification, assessment and aggregation of risks
The aim of risk identification is the early detection of risks, i.e., the timely recognition of events that threaten the existence of a company, whereby all areas, causes, and objects of a company are considered as far as possible.

Risk identification: Search and determination of all individual risks as well as the formation of risk groups and categories; the necessity of detailed information in order to be able to systematize, analyze and evaluate risks.

Risk assessment: Risk assessment aims to transparently map the potential dangers emanating from the identified risks and to demonstrate their impact. This is done by analyzing the risk threats. The basis of this analysis is the definition of quantitative and qualitative limits.

Risk aggregation: Summarizing all risks in different classes and groups to get a better overview of risks and related opportunities as well as the company's risk capital requirements.

Feel free to read more details about risk analysis in one of our blog articles.
Essentials of risk management
Efficient risk management consulting ensures that the company to be advised has a higher risk-bearing capacity than the total risk volume determined in the risk assessment. The rule is that risks are only taken if there is an appropriate potential for return in relation to them. If there is a negative risk-reward ratio in the company, risk management intervenes and aims to achieve the planned target risk situation by means of appropriate risk treatment options.

With the help of appropriate measures, the risk is reduced to a sustainable level from the point of view of the company. Risk management involves strategies for.

(i) risk avoidance,

(ii) risk reduction,

(iii) and risk transfer.

Feel free to read more details on risk management in one of our blog articles.
Essentials of risk treatment options
Risk avoidance:
Avoidance of certain risks with a high-risk potential by ensuring that the probability of occurrence and/or the extent of damage is reduced to zero from the company's point of view.
Risk Reduction / Risk Mitigation:
Reduction of risk by influencing the risk structure.
Influence is exerted with the aid of suitable measures that reduce the probability of occurrence and/or the extent of damage caused by the risk.
Risk transfer:
The risk is transferred to third parties (e.g. by obtaining insurance, outsourcing functions, cooperation agreements, etc.), as a result of which the risk is no longer associated with the company transferring the risk
Feel free to read more details about risk treatment in one of our
blog articles
.
What are the main advantages of Risk Management Consulting by SRC consultants?
The key benefits of SRC Risk Management Consulting are:
Implementing, correcting, and/ or improving existing processes: When you engage an SRC Risk Management Consultant, you will see an improvement in operational efficiency and effectiveness. Our consultants will help you streamline core processes and make them more effective. Our risk management consultants also ensure that you are compliant with rules/policies/regulations. They review your operations, identify areas for improvement, and develop solutions so that you can continue to deliver quality services. It may well be that companies do not know the full range of industry best practices. SRC Consulting can assist you with this so you can gain a competitive advantage.
Open up new opportunities: SRC Risk Management Consultants bring new insights to your business. They can identify opportunities to improve your business that you haven't thought of yet.
Technological approach to risk management: Our consultants establish risk management processes in your company using state-of-the-art technologies that ensure audit security and verifiability.
Your guide to a

holistic

approach to security
Comprehensive process for achieving information security and regulatory compliance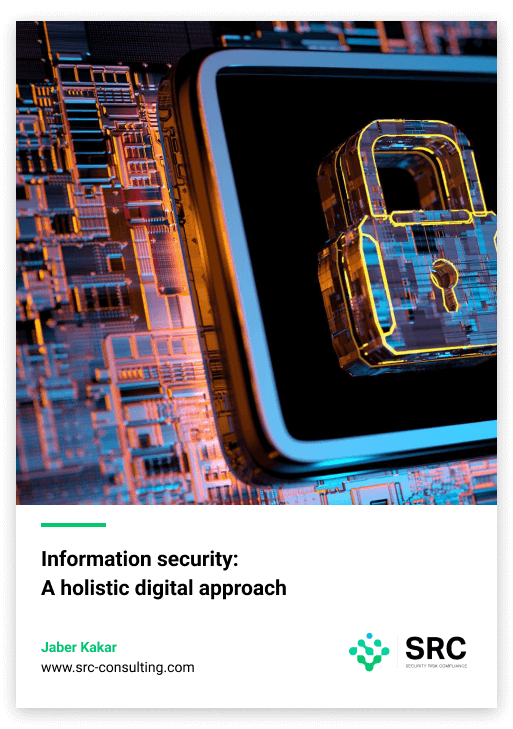 Information security:
A holistic digital approach
Learn more about how they effectively meet compliance and information security requirements
Access our appointment calendar directly to reserve your desired date. Use the meeting link to do so.