Internal Control System
Analyze and optimize your Internal Control System with the help of SRC
We provide services to our customers to establish internal control mechanisms, evaluate their existing structures, establish an internal audit unit or develop existing internal audit practices in order to obtain assurance from their activities. We optimize your internal control system to create a system providing the best possible benefits and defined quality at the lowest cost and meets all compliance requirements.
Under the umbrella of your corporate IT Governance, SRC supports you in the design and implementation of your Internal Control System that is aligned with your overall policy and strategy. We consider your rules, vision, and goals to utilize IT resources for the business benefit making the structure of your internal systems comply with your IT Governance objectives.
Everything you need to know about an

Internal Control System
What is an Internal Control System?
As defined by the Committee of Sponsoring Organizations (COSO), internal control is a process designed to provide reasonable assurance that an organization's operations are effective and efficient, its financial disclosures are reliable, and it meets regulatory compliance.
Internal control systems consulting help establishing IT mechanisms that enable a company to run its processes efficiently and effectively: a rule, a policy, a procedure, a statement from management, and more.
The objective of an internal control system (ICS) is to systematically combine various organizational measures in line with the respective corporate risk by creating suitable organizational structures to ensure compliance with existing rules and guidelines. The aim is to avert damage to the company and external third parties.

Moreover, not only complying with laws and regulations and preventing employees from stealing assets or committing fraud, internal controls can help improve operational efficiency by improving the accuracy and timeliness of financial reporting.
Which tasks can be part of Internal Control System Consulting?
The Internal Control System is established using a risk-based approach. Any ICS consulting should helo you to do one or more of the following:
Establishing business objectives.
Identifying the associated key risks.
Deciding upon the controls to address the risks.
Setting up a system to implement the required controls, including regular feedback.
Identification of potential improvements through analysis of existing processes.
Optimization of the internal control system to create a system providing the best possible benefits and defined quality at the lowest cost and meeting all compliance requirements.


Why are companies and organizations dependent on Internal Control Systems?
Companies will see direct benefits as a result of implementing these solutions, a reduction in risks associated with compliance, and an improvement in the cost-benefit ratio. The cost of maintaining an ICS can also be reduced over the long term. Accordingly, companies should rely on an internal control system to ensure:
the orderly and efficient conduct of its business, including adherence to internal policies
the safeguarding of assets of the business
the prevention and detection of fraud and error
the accuracy and completeness of the accounting records, and
the timely preparation of financial information.
Why is an Internal Control System Consulting service worthwhile?
The objectives of an internal control system are based on the need for internal control in risk management and corporate governance.
An effective ICS is a solid basis on which to build a risk management system. It results in the total compliance costs being reduced and a good basis for effective risk management is provided.
Well-structured ICS consulting enables:
Effectiveness and efficiency of operations.
Reliability of financial reporting.
Compliance with applicable laws and regulations.
Permanent improvement in internal controls. More specifically that manual controls are automated and detective controls are replaced by preventive controls. Efficiency gains are the consequence as automatic testing can significantly reduce the costs of maintaining the ICS.
Increased standardization of controls.
Identification of potential improvements through analysis of existing processes.
What are the components of an Internal Control System?
A system of internal control has five components. Every company must be aware of these components when designing an IT system, as does anyone who audits the system. The components of an internal control system are noted below.
1. Control Environment
This is the attitude of management and their employees regarding the need for internal controls. If controls are taken seriously, this greatly enhances the robustness of the system of internal control. Conversely, if management tends to work around the system of controls, then it is highly likely that employees will ignore the controls as well.
2. Risk Assessment
This is the process of reviewing the business to see where the most critical risks lie and then designing controls to address those risks. This assessment must be conducted on a regular basis, to take into account any new risks introduced by changes in the business. This is a particularly important issue when a business is constantly changing its products and acquiring other businesses since these activities imply the existence of significant changes to the underlying processes, which introduce new risks.
3. Control Activities
This is the use of information technology, and other resources to ensure that appropriate controls are put in place and operating properly. For example, there may be IT systems in place to periodically conduct inventory audits and fixed asset audits. In addition, there may be off-site backups to minimize the risk of lost data.
4. Information and Communication
Information about controls should be communicated to management in a timely manner so that shortfalls can be addressed promptly. The amount of information communicated should be appropriate to the needs of the recipient. Thus, major control breaches should be communicated to senior management at once, while minor issues can be dealt with at a lower level of the organization.
5. Monitoring
This is the set of processes used by management to examine and assess whether its internal controls are functioning properly. Ideally, management should be able to spot control failures and make adjustments to improve the control environment.
How does SRC's Internal Control System Consulting help you?
We at SRC Consulting are convinced to support you on the following key points in the best possible way:
ICS inventory and analysis: SRC's internal control experts assess the appropriateness and effectiveness of company-level controls, business process controls, and internal management and monitoring systems
ICS design including the ICS framework, manual, control and documentation models, risk control matrices and the selection of suitable ICS software

Permanent optimization of your ICS
Do you need Internal Control System Consulting?
Our world is changing rapidly. IT solutions we could virtually imagine a few years ago are now part of everyday business. We see increasingly a development of artificial intelligence to identify and manage risk, while robotic process automation and high-performance databases enable controls using real-time information.
Digital transformation is the best way to achieve the central goal of an internal control system which is security. And it is crucial not just that selected components of the ICS are set up effectively and efficiently, but also that the ICS is viewed holistically.
Internal control system improvement projects involve our consultants assisting companies to identify and assess risks and the security of their assets. Based upon these risks they make an assessment as to the adequacy of the internal control procedures designed and perform checks on whether these procedures are appropriately implemented. Upon completion of these assessments our consultants develop documentation that clearly describes the processes, risks and controls identified, and any recommendations for internal control improvements based on leading practices.
Finding the perfect Internal Control System that

suits you
A systematic approach makes the administration of regulations smarter, more transparent, more efficient, and much more cost-effective. Simplification of the complex control criteria is the essence of our expertise. Our consultants use a holistic approach in establishing, expanding and optimizing your internal control system. Enablement of the customer and tailored solutions are what we care about.
Your guide to a

holistic

approach to safety.
Comprehensive process for achieving information security and regulatory compliance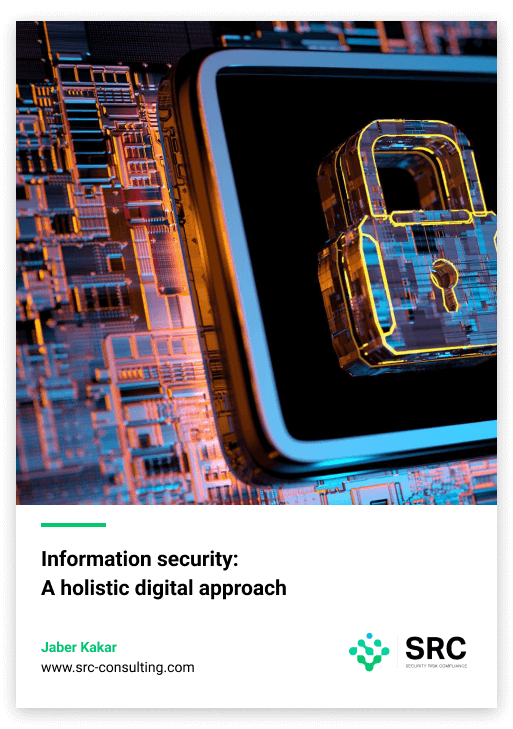 Information security:
A holistic digital approach
Learn more about how they effectively meet compliance and information security requirements
Access our appointment calendar directly to reserve your desired date. Use the meeting link to do so.