IT Compliance Consulting
Implementation of legal requirements with IT compliance
Compliance with legal requirements such as the General Data Protection Regulation (GDPR), the Cybersecurity Act, or the EU Trade Secrets Directive is crucial for ensuring effective and secure IT systems and processes.
Our experts advise you on adherence and conformance with legal requirements and support you in creating a verifiable compliance management system. We also assist in the field of IT compliance laws, IT governance, and GDPR.
Due to the extensive spectrum of IT compliance content and its relevance for digital economic development, it is worthwhile for you to consult an experienced partner. As part of our IT compliance consulting, we offer you corresponding services for legally adherent and economically efficient IT compliance while raising awareness of its necessity among your employees.
Everything you need to know about

IT Compliance Consulting
What is IT Compliance Consulting?
IT compliance refers to the knowledge and adherence with all regulatory guidelines and requirements placed on the company. More specifically, IT compliance can be associated with legal requirements for a certain industry (HIPAA), and sometimes to IT security standards (e.g., ISO). Proper IT compliance requires the initiation and establishment of appropriate processes and the creation of employees' awareness of compliance with regulations. Compliance requirements are a way to ensure that a company's business processes are secure and that sensitive data (including customers' data) won't be accessed by unauthorized parties. IT compliance calls for measures to prevent rule violations, especially in the areas of
information security,
information availability,
data retention and
data protection.
Why is IT Compliance worthwhile?
IT compliance is of particular importance in any industry. That is because companies have to meet the same compliance requirements of the environment it operates in e.g: stakeholders, counterparts, and partners. This makes relationships and alliances homogenous in highly regulated sectors.
Compliance with regulatory requirements is contractually binding between the parties. In such a case, companies secure specific auditing and control rights and stipulate the option of involving subcontractors. The more complex the compliance requirements, the more complex it usually is to draw up the contract but also, the more secure and regulated framework the company will have.
Do you need IT Compliance Consulting?
All private companies, the public sector, and all other organizations must adhere to IT compliance requirements. The law and supervisory authorities specify which requirements each company must fulfill in its specific industry. This results in the compliance requirements that must be observed. The requirements for IT and processes vary greatly depending on the industry, company size, number of customers, and overall societal importance. The strictest compliance requirements apply to critical infrastructure in the sectors of energy, healthcare, government and administration, food, transport and traffic, finance and insurance, information technology and telecommunications, media and culture, and water supply.
Especially in larger companies, compliance requirements often prove to be so extensive. In many cases, compliance with the applicable regulatory requirements is subject to random checks by supervisory authorities. Some companies are even required to regularly demonstrate through appropriate means that all IT compliance requirements are being properly met – for example, through reports from external auditors and penetration tests.
Why are companies and organizations in need for IT Compliance (consulting)?
Compliance requirements apply to entire companies as well as to individual organizational units, projects, and employees.
Compliance is also an important topic in project management or software development. Whoever controls projects or communicates with stakeholders should be aware of the roles, rights, and duties involved. Compliance with corresponding regulations and agreements can also be understood as IT Compliance.
The cost of non-compliance can be very high. It depends on the framework, violation, and other factors.
Which tasks does IT Compliance Consulting cover?
In the course of IT Compliance, consultation often has to
define, document, monitor, and analyze the processes to be adhered to,
ensure the availability of information, and
define internal and external communication rules.
IT Compliance is part of IT Governance, which extends compliance with legal, corporate and contractual rules to management, business processes, and control.
What are the requirements/standards of IT Compliance?
Most compliance requirements stem from legal bases or official regulations. The most well-known regulations for companies and other organizations include:
General Data Protection Regulation (GDPR)
The General Data Protection Regulation (GDPR) is a European Union regulation that has uniformly regulated the processing of personal data since May 25, 2018. The regulations apply to all private companies and public bodies that process the personal data of EU citizens, regardless of whether the respective organization is from the EU or another economic area. Innovations such as the right to be forgotten and the right to data portability are intended to strengthen the protection of privacy.
It defines the remit of the German Federal Office for Information Security (BSI). As a top federal government agency, the BSI pursues the self-defined goal of maintaining cybersecurity "through prevention, detection, and response for the nation, the economy, and the public." By defining established minimum standards, best-practice models, and mandatory regulations, the BSI provides guidance for the secure digitization of large and small organizations. Among other things, the BSIG (Section 8a) includes requirements for critical infrastructures that stipulate the implementation of suitable security technologies for maintaining the "availability, integrity, authenticity and confidentiality of their information technology systems, components or processes".
As an amending law, the IT Security Act (IT-SiG) amends and supplements existing legislation from the BSI Act, the Energy Industry Act, the Telemedia Act, the Telecommunications Act, and other laws. One of the core objectives of the IT Security Act is to improve the security and protection of IT systems and services, particularly in the area of critical infrastructures. For these, the law provides for an obligation to report significant IT disruptions to the BSI.
ISO 27001 defines a framework and describes a concept for implementing an information security management system (ISMS). ISO 27001 specifies the requirements for setting up, implementing, operating, monitoring, evaluating, maintaining, and improving a documented ISMS in terms of general business risks. The international standard takes a top-down approach, focusing on processes and implementing the necessary security measures on the basis of an individual risk analysis. Developed by the BSI, ISO 27001 describes a systematic method for identifying and implementing the necessary IT security measures in companies in order to achieve a moderate, appropriate, and adequate level of protection. Following a bottom-up approach, the focus is on specific measures to secure IT systems.
How does SRC's IT Compliance Consulting help you?
SRC provides all necessary means to be compliant, from implementing appropriate security measures to protecting your data from unauthorized access, exposure, cyberattacks, and other threats. We help you implement strong IT security practices, you do not only comply with laws, but with us, you protect your business from the negative consequences of data breaches, as well.
Our consultation prepares you to meet the audit requirements when it comes to standards verification. We make sure that rules and regulations are up-to-date to ensure compliance sustainability and adaptivity to recent threats and risks.
Using proven guidelines from COBIT 2019, COBIT 5 (ISACA), COSO and IDW PS951 or PS 980, our experienced team of IT compliance specialists will work with you to develop a functional framework as a comprehensive Governance, Risk & Compliance (GRC) Management System.
Your guide to a

holistic

approach to safety.
Comprehensive process for achieving information security and regulatory compliance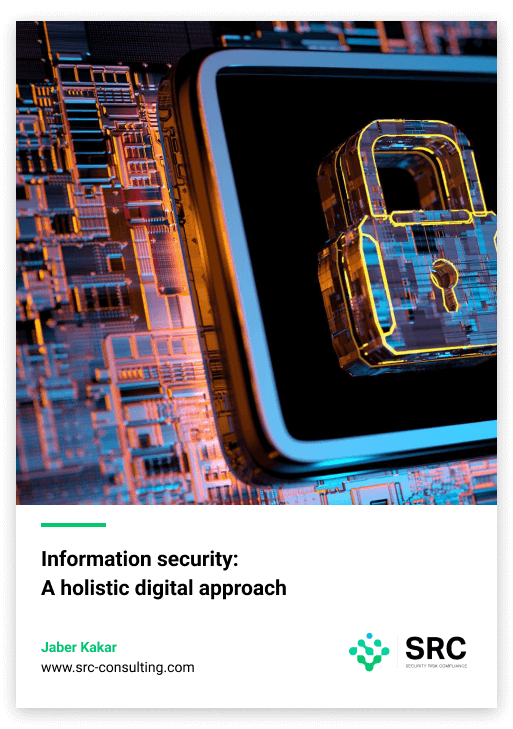 Information security:
A holistic digital approach
Learn more about how they effectively meet compliance and information security requirements
Access our appointment calendar directly to reserve your desired date. Use the meeting link to do so.