Security Consulting
Master your Digital Transformation with the right IT security solution for you by SRC IT Security Consulting
Our consultants are companions to companies in all industries in the area of IT security. Starting with the development of an IT security strategy suitable for your company, the resulting guidelines, processes and organizational structures up to the implementation of your ISMS, we support you. With our service, your company is protected at all times and you can continue to drive your business forward with the appropriate level of security.
Everything you need to know about

IT Security Consulting
What is IT Security Consulting?
IT security consulting is a focus area in IT consulting to provide companies with the best possible support in protecting themselves against attacks in cyberspace. This requires expert knowledge about the current threat situation, attack vectors, the approach of cybercriminals, security requirements and possible solutions. Functioning IT forms the basis for almost all business models today. However, the number, frequency and complexity of cyber attacks are increasing. According to the BSI
there were 117 million new malware programs in 2020, an average of 322,000 per day.
20,000 bots infect IT systems in Germany every day.
These figures show that IT security is becoming a top priority to maintain business continuity and enable innovation. Only by making their systems and processes secure from the ground up can companies evolve and grow without taking risks.
Which tasks does IT Security Consulting cover?
Roughly speaking, IT security consulting is divided into two areas: (a) architecture and (b) technology. Consulting comprises the pillars of architecture and solution design consulting. It also offers implementation consulting. It usually starts with a detailed analysis of the current state. Essential topics include network security, endpoint security, application security, cloud security, e-mail security, authentication, vulnerability management, and detection & response.

As a result of a consultation, companies receive recommendations that they can implement independently - or with the support of IT security consultants. If desired, the IT security consultants can train internal employees to use the new solutions.

In many cases, it is advisable to use managed security services and outsource the operation of security tools to an MSSP with experienced IT security consultants to relieve employees and increase cyber security. Companies can then transfer security tasks in whole or part to external specialists and do not have to deal with the technical details themselves.
Why are companies and organizations dependent on IT security (consulting)?
Numbers often say more than thousands of words. This is why we provide 4 statistics on the relevance of IT security:
117 million new malware programs in 2020 (source: BSI)
77% of security experts assume a growing threat situation (source: Eco)
47% of companies with 100 to 1,000 employees were affected by a ransomware incident in 2020 (source: Sophos)
20,000 bots infect IT systems in Germany every day
Ultimately, there are two challenges:
As digitization continues (networking, IoT, cloud computing, mobile workplace concepts), the IT infrastructure and ultimately the attack surface becomes more confusing and complex.
At the same time, the number of legal and regulatory requirements is increasing.
IT Security Consulting can help to solve challenges A. and B.
Why is an IT security consulting service worthwhile?
SRC consultants have many years of experience and thus have the necessary know-how about current threats, relevant attack scenarios and state-of-the-art security technologies. Furthermore, SRC consultants are familiar with the implementation of standards and regulations (GDPR, PCI DSS, etc.) with the help of security best practices.
What are the important components of an IT security concept?
IT security means more than just using sophisticated technology tools. For comprehensive protection, companies must also take processes, organization, interfaces and people into account in their security framework. An IT security concept covers all these areas. In addition to the technical set-up, this includes the definition of roles and responsibilities as well as the documentation of security processes. Another critical aspect of creating user awareness is training in particular. Observations from the past have shown that with simple training, users would not have fallen for phishing emails. IT security consultants help companies to develop a comprehensive security concept that is tailored to their business model.
How does SRC's IT Security Consulting help you?
We at SRC Consulting are convinced to support you in the following three key points in the best possible way:
1. Close weaknesses in technology and organization with the help of SRC.
We systematically examine the IT infrastructure and work processes in your company for vulnerabilities. Our consulting services show you how to improve your network structures and the configuration of all components. You will also receive recommendations for action regarding your organizational vulnerabilities - from rights assignment, password policy, and backup processes to remote access.
2. Reduce attack surfaces with the help of SRC.
Servers and endpoints should be configured in a way that makes it as difficult as possible for attackers before protective mechanisms such as endpoint security take effect. As part of our security consulting, you will learn how to effectively harden your systems. Together, we develop a plan for the IT security measures you can take to protect your system in the long term.
3. At SRC, we proactively prepare you for emergencies.
With the right preparation, you can ensure that downtime is significantly reduced in the event of an IT security incident and that your company is quickly up and running again. We work with you to create customized emergency plans and emergency manuals to lay the foundation for your incident readiness. To do this, we determine your maximum tolerable downtime and define reporting chains, decision-makers, replacement processes and recovery plans.
What are the latest developments that require IT security consulting?
There are three main developments to mention here:
Home Office Security / Distributed Workforce

Cloudification / Cloud Migration

Increasing connectivity through IoT
Home Office Security / Distributed Workforce:
At the latest with the COVID-19 pandemic, there was a rapid increase in the number of employees working from home. Many companies have had good experiences with that and want to establish more flexible working models with corresponding home office options. This requires a corresponding IT concept in which secure remote access can be established and scaled according to the number of employees and the necessary authorizations.


Cloudification / Cloud Migration:
The use of cloud services is becoming increasingly popular. However, the lack of security functions such as virus protection, access controls or backup mechanisms in the cloud poses a risk. Cloud providers are often only responsible for securing the cloud infrastructure. Tasks such as the protection of applications and data operated via the cloud are the responsibility of the cloud user. Security aspects of cloud migration are also a development that IT security consultants must keep an eye on. Security concepts must therefore be developed in such a way that security concerns are taken into account during cloud migration or adoption without thwarting the essential benefits of a cloud solution.
Increasing connectivity through IoT:
IoT devices allow new business models/business areas to be developed/aquired. However, the rapidly increasing (exponential) number of corresponding devices and connections also harbours information security risks. Concepts for protecting network security and secure access controls must therefore be developed.
Main focus

IT Security Consulting
Our knowledge of IT security and our industry expertise allow us to offer innovative services to protect your business.
Cyber Security
Consulting

Information security
in Finance

Cyber Security Consulting
In Cyber Space, an assessment helps you identify and prioritise the activities required to close security gaps. With SRC, you get quality advice for your cyber security management.
We support you in setting up and optimizing your management systems for information security based on ISO 27001 - from the conception of necessary organizational structures, through the definition of processes, to the creation of necessary documentation.
Information security in

Finance
SRC Consultants combine industry know-how on regulatory requirements (e.g. MaRisk or BAIT) with expert knowledge from information security and advise you on 1st or 2nd line-of-defence issues.
SRC Consultants combine industry know-how on regulatory requirements (e.g. MaRisk or BAIT) with expert knowledge from information security and advise you on 1st or 2nd line-of-defence issues.
Due to many advantages such as scalability, flexibility, but also the cloud billing model, cloud computing is becoming more and more important. However, the introduction of the cloud also requires careful security and compliance planning. On the way to the cloud, we support you in proactively identifying and avoiding pitfalls.
Business Continuity

Management (BCM)
BCM aims to analyze and minimize risks to the company and their impact, and to implement effective countermeasures before they occur. As a result, BCM ensures increased resilience, improvement of the image and continuity of the company effectively and efficiently. SRC consulting services are based on our many years of project experience, industry best practice models and current international standards.
Your guide to a

holistic

approach to safety.
Comprehensive process for achieving information security and regulatory compliance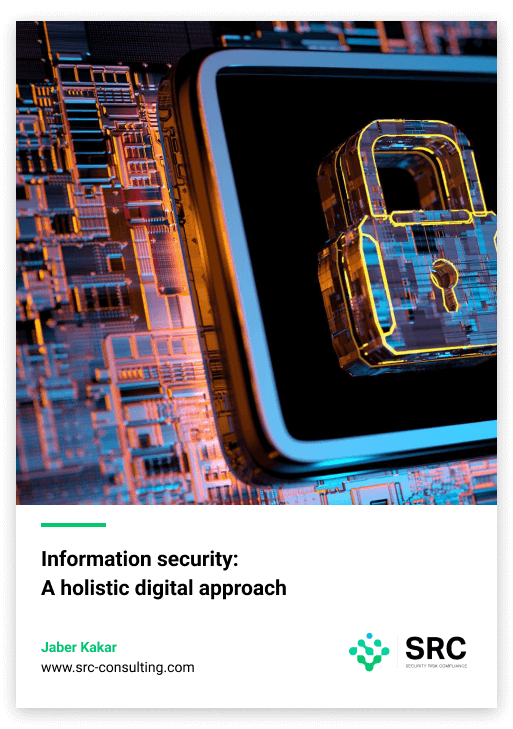 Information security:
A holistic digital approach
Learn more about how they effectively meet compliance and information security requirements
Access our appointment calendar directly to reserve your desired date. Use the meeting link to do so.